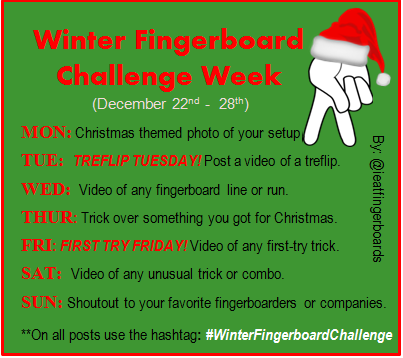 Hi guys!  

For those of you on Instagram, there's yet another seasonal challenge week coming up this Monday-Sunday. This is just a fun posting week that I seasonally host on my Instagram page. The last one (Fall Fingerboard Challenge) had a total of 540 entries and many people seemed to enjoy it, so I'm doing another one!
It's pretty easy – simply just follow the daily guidelines on the day(s) that you want to participate. I know some of us have differing time zones, so just follow your own time zone with posting. It's not a big deal if a post is a little early or late for certain time zones.
Use the hashtag
#WinterFingerboardChallenge
when you post (since you can search for hashtags on Instagram this makes it easier for people to find and view all the posts).
There is
no competitive element
to this with no prizes or judging; this is simply just for fun!  
I've had quite a few requests for prizes/judges to be involved but as of right now, this is just a fun challenge to participate in. Since there are seven days and hundreds of posts to go through (with some accounts being private), it would be pretty difficult to have timely and fair judging. So as of right now, these are just fun video/photo challenges to take part in!
Let me know if you have any suggestions/ideas/improvements I can work on for the Spring Challenge Week.
Link to the original Instagram post:
http://instagram.com/ieatfingerboards/