Hello everyone!
First of all, i'm not sure if this kind of topic goes here, I wasn't sure about posting it on events, so if something's wrong just let me know!
You probably already know about Fingercan, and its annual online contest Halloween Fbing 2014, so just let me invite everyone for the first time to participate in this contest! Since it was held in 2011, the participation was always limited to Spain and spanish talking countries, but as Fingercan has visitor from different places of the world, we think it wouldn't be fair to doesn't let them participate this year, so here you have!
If a few words, the contest consists in recording a 3 minute videos (more or less) in a hardcore/terrifying/halloween environment, it's not the typical contest where you have to do the best line, so tricks are not only the most important thing here, this is like a normal fingerboard video (well, not so normal...  

). Additionally, you will have a lot more fun mounting the scenario, editing, etc.
We're already showing the fingerboard companies that sponsor the contest these days on
Fingercan.com
, and our
Twitter
and
Instagram
accounts. The thing here is that YOU have to guess what are the fingerboard companies, more info right here:
http://www.fingercan.com/guess-the-sponsor-1/
Here you can see how great were the prizes in the last Halloween Fbing edition:
http://www.fingercan.com/premios-del-halloween-fbing-2012/
And here how awesome were in another contest we do, the Christmas Fbing, last year:
http://www.fingercan.com/premios-christmas-fbing-2013/
Here's everything you need to know about Halloween Fbing:
-General info:
http://www.fingercan.com/halloween-fbing-2014/
-Rules:
http://www.fingercan.com/halloween-fbing-2014-rules/
(here you same some examples of how a Halloween Fbing entry looks like, too).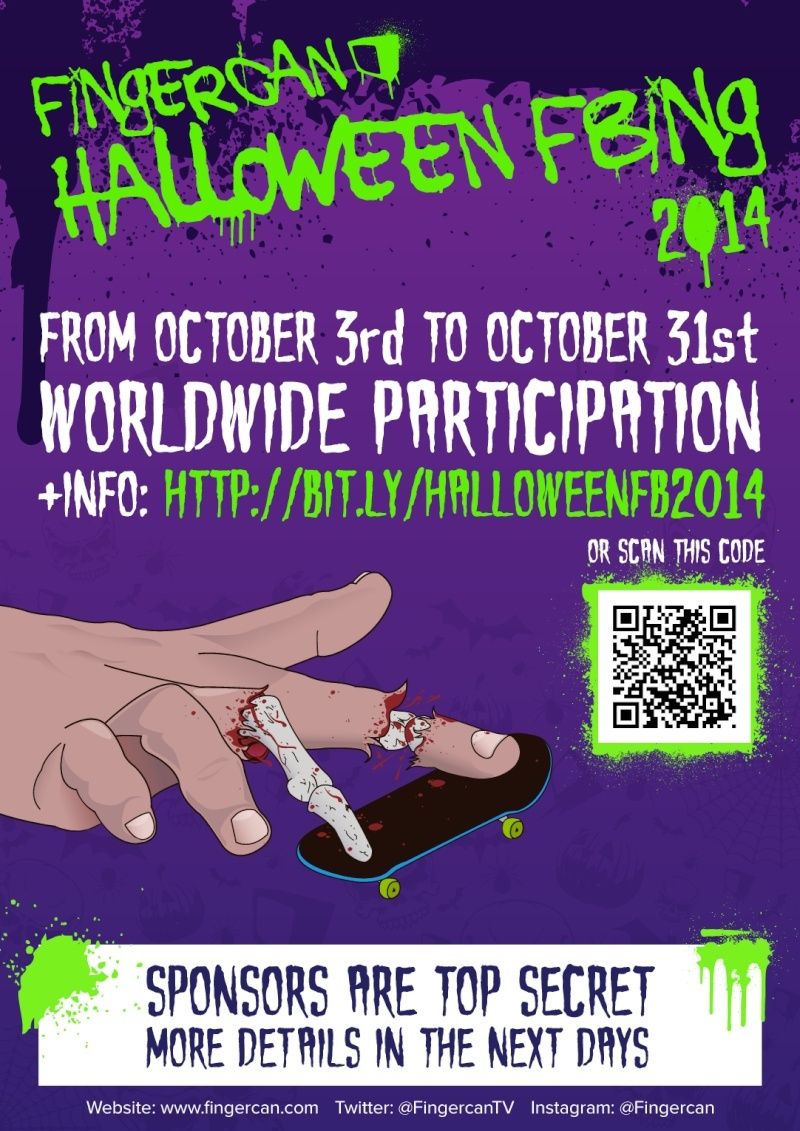 Anyway, if you have any question feel free to contact us!
We're really happy about this, because is a new chapter in Fingercan history, although it can look a simple thing
If any brand out here is interested on supporting the contest, feel free to contact us, of course, we think that if every rider in the world have the right to participate, every fingerboard company have the right to support the contest too.
Good luck everyone and most important, have fun!